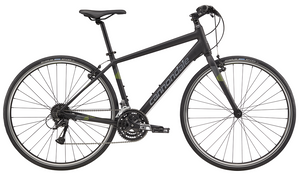 With lightest-in-class weights, bright reflective graphics and a smooth, stable ride, the Quick is the fast, fun way to get fit or get around town.
All Quick models feature bright 360° reflective elements for that extra measure of safety.
Enhanced SAVE Micro-Suspension features in the rear triangle, plus ergonomic grips, saddle and pedals keep riders comfortable and connected.
Our OutFront Steering Geometry makes the Quick so stable, so confident and such swoopy fun to ride, that you might just forget you're working out.
In true Cannondale form, Quick bikes are the lightest in their class. Easier to pedal, easier to lift, easier to love!